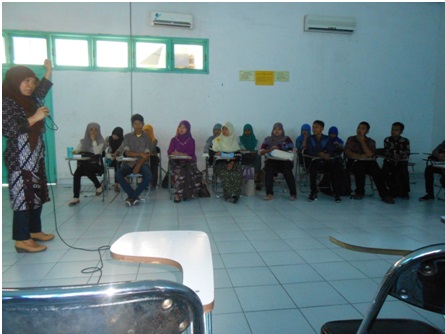 Soft skills seminars By Student Advisor Center
Advisory Center Student Pembangunan Panca Budi Medan University (SAC) held a seminar soft skills (Self Management Part II) entitled "Planning for the Future Success" with Keynote Speaker Hardjo Suryani, S. Psi., MA, Psychologist. Seminars are held from time to 11.30wib 08.30Wib is held in building A at room 401 which is followed by 50 students from various faculties. Previously SAC also has held a seminar on Self-Management wave I on October 12, 2013 with the same number of participants is 50 students and seminar diruang A.401. The enthusiasm of the students who attend the seminar proved to be very high coming from their arrival ahead of schedule that has been set, so the Syriac Sources Hardjo, S.Psi., MA, Psychologists feel proud to have been a guest speaker at seminars involve these soft skills, regular presenters in calling the yaya mother also advised that students could UNPAB setting the pace and planning mengamalkanya for themselves and reaching their dreams in the future.
In addition, on the same day and at the same time anyway, SAC also held a seminar "Achievement Motivation" for students who have attended seminars Self Management E.106 wave I in the room. Seminar entitled "Increase Motivation, Achievement Reach" is filled by Suhaimi Resource Harahap, SH., Who is also an alumni of the University of Development Panca Budi. Diseminar this, students are given biographies of successful people, wise words of motivation, as well as filling "Future Planning Card" as a place to pursue their minds about their future.
Suhaimi as a resource very happy while reading "future planning card" which has been written by students UNPAB because they have ideals and possessed exceptional strategy to pursue their ideals.
Pengumuman
Galeri Fakultas
Galeri Universitas
tags
newsletter